Con Lutheran Counseling Services (Servicios de Consejería Luterana), usted encontrara un ambiente digno de confianza y bondadoso donde profesionales licenciados de salud mental proveen servicios de consejería dentro de una relación confidencial. Los servicios de LCS son disponibles a la entera comunidad del Centro de Florida. Nuestros terapistas están disponibles de ofrecer procesos y conversaciones psicológicas, como también recursos para la sanación y el crecimiento del espíritu.
Algunas de los asuntos que son dirigidos con la consejería en LCS incluye:
Ansiedad & Control de Ira

Aflicciones y Perdidas

Asuntos de Matrimonio & Relaciones

Depresión

Asuntos de Niños & Familia

Recuperaciones de Crisis/Trauma

Crecimiento Personal

Asuntos del Espíritu/Asistencia Pastoral

Sesiones de Terapia de Grupos
Terapia Individual - Terapias de uno a uno, provee al individuo con el entendimiento y la habilidad necesaria para responder con creatividad a asuntos y preocupaciones personales.
Terapia de Familia - Familias desarrollan un entendimiento de cómo funcionan, identifican las necesidades de cada miembro, y desarrollan la habilidad para fortalecer la unidad familiar.
Terapias de Pareja- La pareja trabajara con el consejero para mejorar el entendimiento entre pareja,
Menores/Adolescentes - Menores y adolescentes de edad escolar, se reúnen con terapistas entrenados a usar terapia de juego y otras técnicas para evaluar y ayudar a una resolución a los conflictos emocionales y asuntos de comportamientos.
Grupos - Grupos ofrecen un ambiente reconfortante y sin juicio para compartir triunfas y aflicciones. Cada grupo se centra en un tema o demográfico especifico y es ofrecido en días y/o tiempos diferentes.
Ofrecemos servicios de consejeria en español y ingles en los siguientes lugares:
             Main Office - Winter Park (Oficina principal) - 1505 Orchid Ave., Winter Park FL 32789
              Prince of Peace Lutheran Church - Orlando - 1515 S. Semoran Blvd, Orlando, Fl 32807
             Trinity Lutheran Church - Kissimmee -  3016 W Vine St, Kissimmee, FL 34741
Thomas Cabello, Registered Marriage and Family Therapist Intern # 2969                                                                                (Registrado Para Practicar Terapia De Matrimonio y Familia)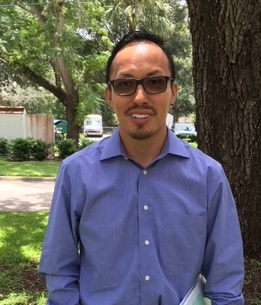 Thomas nació en Huancayo, Perú y habla español. Inmigró a los Estados Unidos en 1995 cuando tenía 9 años y creció en Stamford, CT. Entro al Ejercito de los Estados Unidos en 2006 y sirvió por 8 años. Se empeño a mejorar a si mismo para el beneficio de su familia y persona, Thomas se graduó en Julio 2018 de la Universidad de Mary Hardin-Baylor con su Maestría en Consejería de Matrimonio, Familia, y Niños(as) y tomo el título de Registered Marriage and Family Therapist Intern (Registrado Para Practicar Terapia De Matrimonio y Familia). Una gran motivación para Thomas es su familia. El tiene 13 hermanos y hermanas y está casado con su esposa, Brooke Cabello, por diez años. Thomas tiene una hija, Sofia, y un hijo recién nacido, Maita.
El enfoque de Thomas en la terapia es ser flexible al individuo (menor o adulto), parejas o familia. Unos de los tres de los varios y diferentes enfoques que es usado por Thomas son:
1)      Terapia Simbólico/Experiencial de Familia
a.       Esta teoría presenta a la familia con nuevas opciones a la definición de comportamientos dentro de la familia. La meta es para que los individuales y/o familias sean lo suficientemente flexibles para atravesar problemas, pero suficientemente cohesionados para mantener contacto dentro del individuo y con cada miembro de la familia.
2)      Terapia Breve Centrada en las Soluciones
a.       Esta teoría enfoca soluciones del presente y futuro al pasado problemático para traer nuevas soluciones al problema.
3)      El Modelo Terapéutica de Satir
a.       Las intervenciones son directas y funcionales. Cada miembro de la familia necesita comunicar sus fuerzas del interior, valor propio, y emociones para alentar el crecimiento de desarrollo y mejorar el autoestima dentro de la persona y familia entera.