Thomas Cabello, RMFIT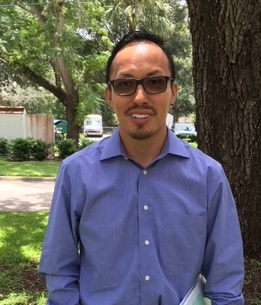 Thomas was born in Huancayo, Peru and is fluent in Spanish. He immigrated to the United States in 1995 when he was 9-years-old and grew up in Stamford, CT. He joined the U.S. Army in 2006 and served for 8 years. Committed to improving himself for the benefit of himself and his family, Thomas graduated in July 2018 from the University of Mary Hardin-Baylor with his Master of Arts Marriage, Family, and Child Counseling and became a Marriage and Family Therapist Intern. Thomas' greatest motivator is his family. He has 13 brothers and sisters and has been married to his wife, Brooke Cabello for nine years. Thomas has a daughter, Sofia, and infant son, Maita.
Thomas' approach to therapy is flexible to the individual (child or adult), couple or family. Three of the many approaches Thomas uses:
1)     Symbolic-Experiential Family Therapy
This theory presents the family with new options to the definition of behavior within the family. The goal is for individuals and families to be flexible enough to traverse problems, but cohesive enough to maintain contact within the person and with each person of the family.
2)     Brief Solution-Focused Therapy
This theory emphasizes present and future solutions to the problematic past to bring forth new solutions to the problem.
3)     Satir's Therapeutic Model
Interventions are direct and functional. Each member of the family needs to communicate with their inner strengths, self-worth, and emotions to encourage developmental growth and improved self-esteem within the person and family.
Thomas nació en Huancayo, Perú y habla español. Inmigró a los Estados Unidos en 1995 cuando tenía 9 años y creció en Stamford, CT. Entro al Ejercito de los Estados Unidos en 2006 y sirvió por 8 años. Se empeño a mejorar a si mismo para el beneficio de su familia y persona, Thomas se graduó en Julio 2018 de la Universidad de Mary Hardin-Baylor con su Maestría en Consejería de Matrimonio, Familia, y Niños(as) y tomo el título de Registered Marriage and Family Therapist Intern (Registrado Para Practicar Terapia De Matrimonio y Familia). Una gran motivación para Thomas es su familia. El tiene 13 hermanos y hermanas y está casado con su esposa, Brooke Cabello, por diez años. Thomas tiene una hija, Sofia, y un hijo recién nacido, Maita.
El enfoque de Thomas en la terapia es ser flexible al individuo (menor o adulto), parejas o familia. Unos de los tres de los varios y diferentes enfoques que es usado por Thomas son:
1)      Terapia Simbólico/Experiencial de Familia
a.       Esta teoría presenta a la familia con nuevas opciones a la definición de comportamientos dentro de la familia. La meta es para que los individuales y/o familias sean lo suficientemente flexibles para atravesar problemas, pero suficientemente cohesionados para mantener contacto dentro del individuo y con cada miembro de la familia.
2)      Terapia Breve Centrada en las Soluciones
a.       Esta teoría enfoca soluciones del presente y futuro al pasado problemático para traer nuevas soluciones al problema.
3)      El Modelo Terapéutica de Satir
a.       Las intervenciones son directas y funcionales. Cada miembro de la familia necesita comunicar sus fuerzas del interior, valor propio, y emociones para alentar el crecimiento de desarrollo y mejorar el autoestima dentro de la persona y familia entera.